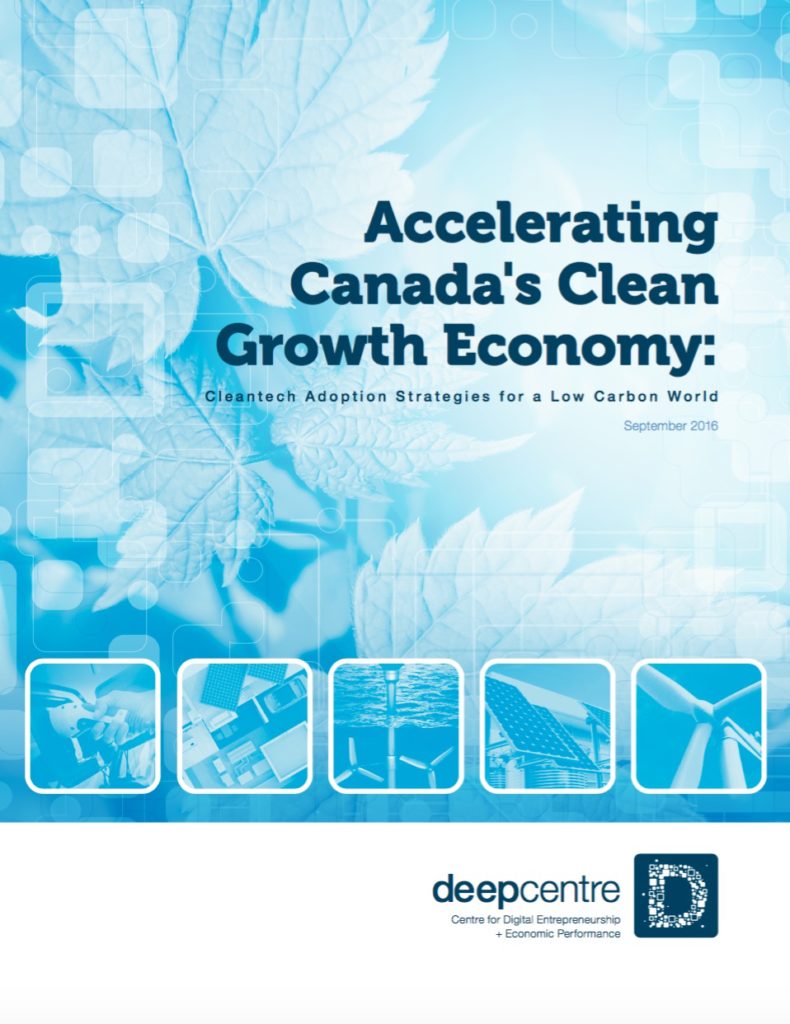 At the COP21 meetings in Paris in November 2015, the Government of Canada and called on the Canadian business community to help lead the way toward an economy driven by clean growth. One year later, a new report by the DEEP Centre highlights the magnitude of the cleantech adoption challenge facing Canadian industry and issues recommendations for positioning Canada to emerge as a 21st Century cleantech superpower.
The DEEP Centre's report on Accelerating Canada's Clean Growth Economy was commissioned by Canada's Department of Innovation, Science and Economic Development (ISED) as part of its mandate to investigate how Canada can leverage cleantech innovation to stimulate economic growth and create jobs. The DEEP Centre was asked to undertake a cross-sector survey of clean technology adoption practices and provide an analysis of measures that could accelerate Canada's progress towards a low-carbon economy. Between May and July 2016, 72 companies from a diverse range of sectors supplied detailed data about their investments in clean technology and participated in one-to-one interviews with the DEEP Centre regarding the economic and environmental benefits of adoption and the barriers and challenges that could inhibit further investment.
Accelerating Canada's Clean Growth Economy will help policymakers, industry leaders and stakeholders:
Understand cleantech adoption practices across the economy, including plans for future investment and the perceived economic and environment benefits associated with clean technologies.
Recognize and address some of the barriers and obstacles that are inhibiting investments in clean technologies by Canadian companies.
Learn from best practice case studies that highlight the value creation associated with smart investments in clean technology, particularly those instances where adoption is driving domestic investments in innovation and supporting the growth of cleantech SMEs.
Implement actionable recommendations for accelerating clean tech adoption across sectors and promoting partnerships that will stimulate the creation of global cleantech champions in Canada.
The DEEP Centre would like to thank ISED for funding this research and all of the companies and executives who took the time to participate in the study.  We hope the report will equip governments, corporate leaders, entrepreneurs, investors and other stakeholders with the knowledge required to promote faster and broader adoption of clean technologies, and to maximize the innovation, growth and shared prosperity that emerges from greater corporate engagement with the Canadian cleantech sector.
Summary of the Key Findings and Recommendations from Accelerating Canada's Clean Growth Economy
The following observations highlight some of the key findings from the DEEP Centre's report:
Canadian firms as a whole are late or reluctant adopters of clean technologies. In a 2014 survey of 12,000 enterprises in Canada, Statistics Canada found the rate of cleantech adoption to be by far the lowest among the four classes of technology it tracked, which also included business intelligence, logistics, design and fabrication technologies. While 43% of firms in Canada adopted advanced logistics technologies, less than 10% have adopted clean technologies.
Early adopters of clean technologies in Canada are focused on efficiency measures that reduce operating costs and cite high implementation costs as a barrier to future investment. Across the sample of companies surveyed by the DEEP Centre, energy efficiency investments were found to be the most common with 81% of companies surveyed reporting projects in this area. The focus on energy efficiency is consistent with the finding that the principal motivation for making investments in clean technologies is a desire to reduce company operating costs. Nearly three-quarters (74%) of the sample, meanwhile, indicated that the high cost and capital-intensity of cleantech solutions is the primary barrier to future investment.
Challenging economics and slow innovation cycles hamper cleantech adoption in traditional industries. While Canada's traditional industries (agriculture, construction, fisheries, forestry, mining and oil and gas) face the most acute pressure to reinvent themselves for a low-carbon world, their pathway to clean growth is encumbered by significant obstacles. In interviews with executives, many companies cite capital constraints, low commodity prices, slow innovation cycles and intense margin pressures as barriers to cleantech adoption.
Canada's adoption leaders see cleantech as an opportunity to reinvent and reinvigorate traditional industries such as transportation, forestry and construction. The forest product industry, for example, is responding to the long-term secular decline in pulp and paper with major investments in the creation of new forest-based bio-products—products like nanocrystal cellulose with the potential to transform the sector into an innovative 21st century player in the emerging bio-economy. Leading players in Canada's construction industry are piloting "net zero emissions" buildings which use technologies and materials that maximize the conservation of energy and produce as much energy as possible on site.
Collaboration and open innovation are helping Canadian companies overcome tough adoption hurdles. Industry-led initiatives such as EVOK Innovations, the Carbon Impact Initiative and Canada's Oil Sands Innovation Alliance (COSIA) are demonstrating that collaboration is often faster, more efficient and less risky than pursuing a proprietary approach to cleantech innovation. Collaboration and open innovation expand the pool of talent that can participate in solving problems and produce a diversity of thought that can lead to breakthrough results. While industry networks and consortia are increasingly common in Canada, so too are partnerships with postsecondary institutions that offer firms access to tremendous technical and academic experience and a research and experimentation infrastructure that would be too costly to create from scratch.
Anchor customer relationships with cleantech firms can give rise to powerful synergies that will enhance the competitiveness of both traditional and emerging industries. The DEEP Centre report showcases a variety of efforts by large Canadian firms to engage more deeply cleantech firms and innovation hubs across Canada. The case studies demonstrate how a cleaner and more engaged corporate community in Canada can generate increased revenue for clean tech SMEs, create opportunities for SMEs to refine their offerings and provide better access to growth capital, channel relationships and global value chains. At the same time, they demonstrate the extent to which partnerships between industry incumbents and cleantech startups can infuse greater creativity and new momentum into the efforts of large firms to grapple with the economic and environmental challenges facing their industries.
Drawing on the conclusions of the research, the DEEP Centre identified fifteen recommendations for accelerating Canada's transition to a clean growth economy. These include a list of ten strategies for increasing the adoption of clean technologies and five actions large, capital-intensive firms in Canada can take to help strengthen the capacity of the cleantech sector to successfully commercialize world-class solutions for a low-carbon economy.
Among the recommendations for boosting the adoption of clean technologies are the following actions:
De-risk clean technology adoption through industry-led pilot projects that test and verify the performance of new technologies in partnership with cleantech SMEs.
Expand the domestic market for clean technologies through public procurement and funding for large-scale demonstration projects.
Create industry consortia to lower the cost and increase the pace of innovation, using collaborative, cross-sector initiatives to pool the knowledge and investments required to move quickly and decisively in preparing for a global low carbon economy.
Establish vertically-focused and industry-supported cleantech acceleration models to build a pipeline of new innovation opportunities and help position industries such as forest products, mining, fisheries and agriculture as world leaders in sustainability.
Use strategic regulations as a driver for cleantech innovation and adoption with consistent, national approaches to carbon-pricing and other performance-based regimes that drive continuous improvement in environmental performance.
The list of industry-led capacity building measures for cleantech sector includes the following actions:
Identify high-impact problems for clean tech innovators to solve by launching industry innovation challenges and communicating industry pain points to post-secondary institutions and cleantech accelerators.
Provide flexible capital to clean tech start-ups and SMEs using industry-backed investment and acceleration models to structure win-win partnerships between cleantech innovators and large adopters.
Create opportunities to test, refine and scale-up new products and services with pilot projects and partnerships run through industry consortia that will share pilot project results with a larger community of potential customers.
Build cleantech management capacity by making executives available to mentor clean tech companies using structured capacity-building programs such as Quebec's MACH initiative in the aerospace industry.
Broker international market opportunities by opening up access to global supply chains and helping cleantech SMEs forge stronger international ties.
Taken together, these and other actions recommended in the DEEP Centre report can deliver the step change in clean technology adoption that Canada needs. Implementation of these measures will not only help ensure Canada meet its climate change commitments, it will also put Canada's high-emitting industries on a pathway to reinvention around low-carbon solutions and create new opportunities for the emerging cleantech sector to commercialize and scale-up powerful new solutions.