DEEP Centre releases report on Accelerating Canada's Clean Growth Economy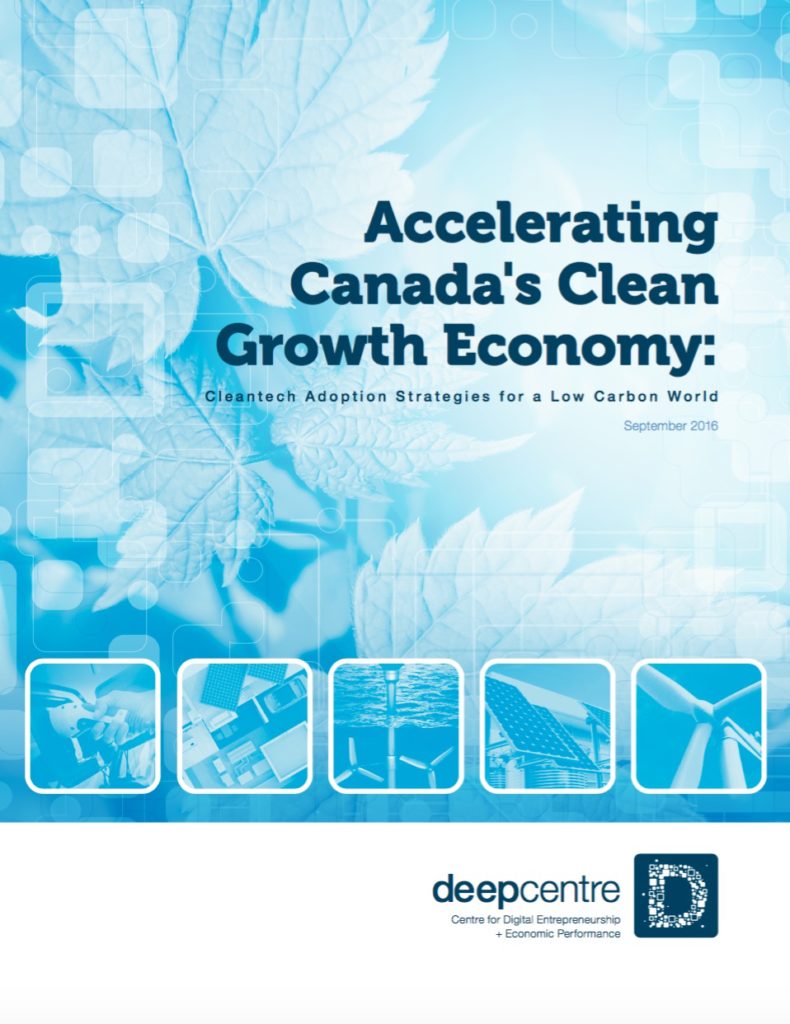 At the COP21 meetings in Paris in November 2015, the Government of Canada announced ambitious new targets for reducing greenhouse gas emissions and called on the Canadian business community to help lead the way toward an economy driven by clean growth. One year later, a new report by the DEEP Centre highlights the magnitude of the cleantech adoption challenge facing Canadian industry and issues recommendations for positioning Canada to emerge as a 21st Century cleantech superpower.
The DEEP Centre's report on Accelerating Canada's Clean Growth Economy finds that a small number of Canadian companies see the low-carbon economy as a rich source of vibrant new business opportunities, including opportunities for innovative, green products, for renewable and clean energy, for smart and efficient materials, and for new transportation and housing options. Industry collaborations such as Evok Innovations, Canada's Oil Sands Innovation Alliance, the Carbon Impact Initiative and FPInnovations, for example, are knitting together the need to enable traditional industries with cleantech innovation with the need to empower entrepreneurs to commercialize and scale-up powerful new solutions.
While these significant green shoots of cleantech leadership activity hold promise for the Canadian economy, the research shows that Canadian industry as a whole could be characterized as late or reluctant adopters of clean technologies, with less than 10% firms having made cleantech investments. A DEEP Centre survey of these early adopters finds that the prevailing approach to clean technology adoption in key industrial sectors—including sector such as transportation, power generation, heavy manufacturing, forestry, mining, oil and gas—is focused on opportunities for reducing costs through energy efficiency rather than game-changing innovations with the potential to reindustrialize and reinvigorate high-emitting industries around low-carbon solutions.
The DEEP Centre also finds that Canada's comparatively small domestic cleantech market, with its limited number of early adopters, has put a handbrake on cleantech commercialization by denying Canadian cleantech startups the opportunity to use the domestic market as a launchpad to succeed on the international stage. The report concludes that Canada is set to lose out in the global cleantech innovation race without significant actions to boost domestic adoption of clean technologies and keep pace with the innovation and cleantech commercialization efforts of key international competitors.
Among other things, the DEEP Centre calls for continued investment in the creation of world-class research to provide the scientific foundation for revolutionary process innovations and new products and services, and for vertically-focused cleantech incubators and accelerators with deep market knowledge and industry connectivity to support the development of a thriving cleantech sector. The report also calls on corporate Canada to shed its risk aversion and muster the leadership to play an active role in developing and adopting cleantech innovations, at a much greater rate than before. The DEEP Centre recommends that all levels of government to work together to bolster cleantech investment through smart regulations and by addressing the sector's need for large-scale project funding to support demonstration projects and build out the manufacturing capacity to ensure world-class science and innovation converts to industrial-scale solutions.
The report on Accelerating Canada's Clean Growth Economy was commissioned by Canada's Department of Innovation, Science and Economic Development (ISED) as part of its mandate to investigate how Canada can leverage cleantech innovation to stimulate economic growth and create jobs. The DEEP Centre was asked to undertake a cross-sector survey of clean technology adoption practices and provide an analysis of measures that could accelerate Canada's progress towards a low-carbon economy. Between May and July 2016, 72 companies from a diverse range of sectors supplied detailed data about their investments in clean technology and participated in one-to-one interviews with the DEEP Centre regarding the economic and environmental benefits of adoption and the barriers and challenges that could inhibit further investment.
Please visit the report home page for a full summary of key findings and recommendations.