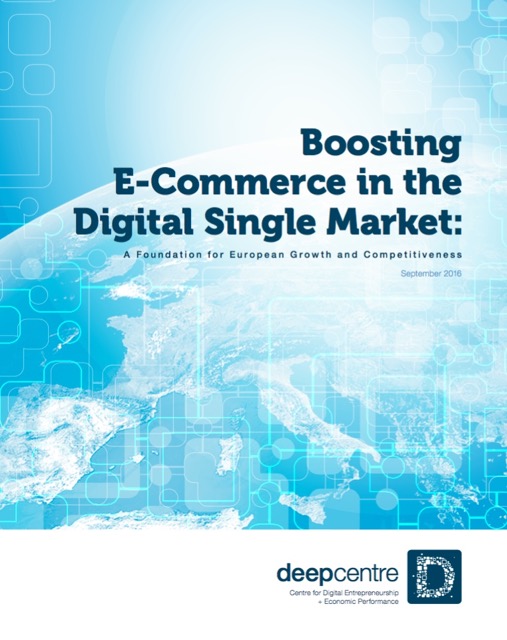 European business leaders and policymakers have long lamented Europe's apparent inability to foster the creation of global technology champions like Apple, Amazon, Facebook and Google. In fact, in a ranking of the top global Internet leaders by market valuation, there is not a single European firm in the top 20, a list which is dominated almost exclusively by Chinese and American Internet companies.
Research seeking to explain Europe's relative underperformance has highlighted the presence of significant national fragmentation in the market for e-commerce and digital services as a key reason why European startups struggle to realize the true potential of the continent's market of 500 million consumers. In fact, although half of European retailers are online, only 21% sell in other EU member states and those who do limit their exports to a few countries, with the European average being 1.8 territories per company.
In an effort to boost's Europe digital competitiveness, European public policymakers have prioritized the creation of a Digital Single Market (DSM) in which digital goods and services can move seamlessly across the 28 member nations under the same set of rules. The proposed single market for digital services would create uniform rules that protect intellectual property, safeguard consumer data, eliminate mobile-phone roaming charges and end discriminatory practices such as geo-blocking digital content. The European Commission estimates the DSM would contribute €415 billion to the European economy, boosting jobs, growth, competition, investment and innovation.
Following the European Commission's publication of a Digital Single Market Strategy for Europe in April 2016, the European Parliament solicited expert contributions on challenges and opportunities related to the implementation of the single market, including concrete proposals for overcoming any remaining barriers to making the DSM a reality in the EU. In June 2016, DEEP Centre president and co-founder Anthony D. Williams was invited to Brussels to brief the European Parliament's Committee on Internal Market and Consumer Protection and present a report on "Boosting E-Commerce in the Digital Single Market." This report summarizes the DEEP Centre's analysis of the opportunities a single market for digital services would create for European entrepreneurs and provides a series of recommendations for how to strengthen the enabling conditions for entrepreneurial success in Europe, particularly in the domain of digital services and e-commerce.