Do incubators and accelerators produce viable companies? Increase innovation? Create jobs? Produce windfalls for their founders and investors? Elicit greater private investment in start-ups?
These are just some in a series of questions that the DEEP Centre has sought to answer in its evaluation of Canada's business accelerator and business incubator ecosystem. This project has been supported by Industry Canada, the Business Development Bank of Canada, the Department of Foreign Affairs, Trade and Development, and the Government of Ontario's Ministry of Economic Development, Employment and Infrastructure.
The results highlight a mixed bag of results. On one hand, the top 20 Canadian accelerators and incubators have helped attract over $1.7 billion in follow-on investment and helped facilitate the creation of over 10,000 new jobs. On the other,the performance of the Canada's 20 leading accelerators and incubators is not necessarily indicative of the performance of the other 120-odd incubators and accelerators across the country. In fact, in the absence of detailed and reliable nationwide data, it is not possible to infer much at all about the broader economic impact of SAOs in Canada, which is a fundamental weakness that requires urgent redress.
There is considerable variance in economic outcomes even within the top 20, for which more detailed performance metrics have been obtained. Indeed, both the domestic analysis and the review of international comparators suggest that the potential impact of these organizations far exceeds their current contribution within Canada's entrepreneurial ecosystem. For example, in comparison to leading US-based accelerators, the likes of which have spawned recognizable tech leaders such as Reddit, Dropbox, and Airbnb, there is still a distinct lack of definitive success cases that one can point to within the Canadian ecosystem. In fact, some of Canada's top performing tech companies of late, including Hootsuite and Shopify, did not participate in a Canadian incubator or accelerator.
Interpreting the results of this study thus require nuance and caution. There are significant benefits accruing to the Canadian economy, and to Canada's entrepreneurial ecosystem, as a result of the activities of these organizations. These benefits however leave significant room for improvement. This series of reports is aimed at helping push these organizations, and their funders, to improve their operations and activities to better serve their clients and the public that supports them.
The resultant five part series provides answers to these questions, as well as leaving several more questions and areas for further research.
Part I of the project provides a taxonomy for understanding the diversity of support organizations, including key differences in their structures and programming. It also provides a performance measurement framework and a wish list of key metrics with which to judge the effectiveness of these programs.
Part II looks beyond Canada's borders to the network of Canadian Technology Accelerators (CTA), operated by the Trade Commissioner Service of the Department of Foreign Affairs, Trade and Development. Operating in 12 sites in 4 countries, the CTAs play an important role in helping Canadian start-ups establish a foothold in international markets.
Part III provides an in-depth analysis of the Canadian innovation and entrepreneurship support ecosystem, including a 360-degree analysis of 26 Canadian accelerators and incubators. The qualitative component of the research consisted of interviews with organizational leaders, venture capital investors, and alumni and participant firms. This provides the basis for an in-depth understanding of how these organizations are evolving, the value they provide start-up firms, as well as the gaps and challenges that remain. Qualitative research was supplemented by an analysis of data on job creation and follow-on investment associated with the start-up support services offered by Canadian BABIs.
Part IV provides a comparative look at the international business acceleration landscape and includes an in-depth analysis of the evolution and performance of 16 top international accelerators, as well as the policy environments shaping start-up ecosystems in six jurisdictions that are broadly comparable to Canada.
This final report, Part V, builds on the preceding reports to summarize key insights from the investigation and provides an action plan consisting of key recommendations and initiatives to address the weaknesses in Canada's entrepreneurial support system. Wherever possible, the recommendations point to comparable initiatives in other institutions or organizations that could provide a template for progress in Canada. Ultimately this report is designed to help the various stakeholders involved in Canada's BABI ecosystem identify appropriate roles and responsibilities for their organizations in a necessarily collaborative effort to give Canadian start-ups a leg up in an increasingly competitive global economy.
This project is supported by Industry Canada, the Business Development Bank of Canada, the Department of Foreign Affairs, Trade and Development, and the Government of Ontario's Ministry of Economic Development, Employment and Infrastructure. Additional project partners include the Canadian Association of Business Incubators and the National Research Council.
For more information contact Dan Herman dherman@deepcentre.com
Download the reports here
Capstone Report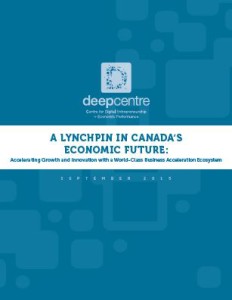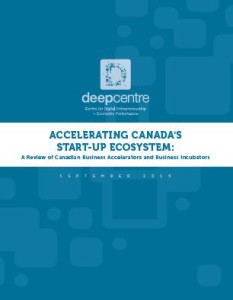 Evaluation Frameworks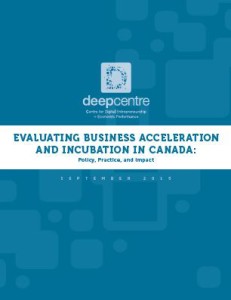 Internationalization of CDN Startups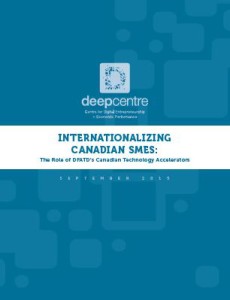 Global Best Practice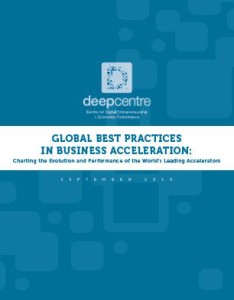 International Profiles